Professional and swift asbestos removals in Guildford, Surrey
Welcome to Key Asbestos. We are a Surrey-based asbestos company offering a comprehensive range of asbestos services in Guildford, Godalming, Stoughton, Merrow, Shalford, and the surrounding parts of Surrey. From small-scales asbestos surveys to large-scale asbestos demolition and removal projects, our asbestos surveyors and asbestos consultants are some of the best in the business.
Our helpful and professional team has a wide range of experience and has built an excellent reputation, both locally and further afield. We offer a transparent, honest and hassle-free approach, where we will never use complicated asbestos terminology. We always aim to complete all work as swiftly and efficiently as possible and work to the highest safety standards.
Our team all hold the relevant P402 qualifications and we have a wide range of experience in the domestic, commercial and industrial sectors. All non-licensed asbestos work is completed by UKATA-trained asbestos operatives, whilst licensed work is completed by teams with multiple accreditations.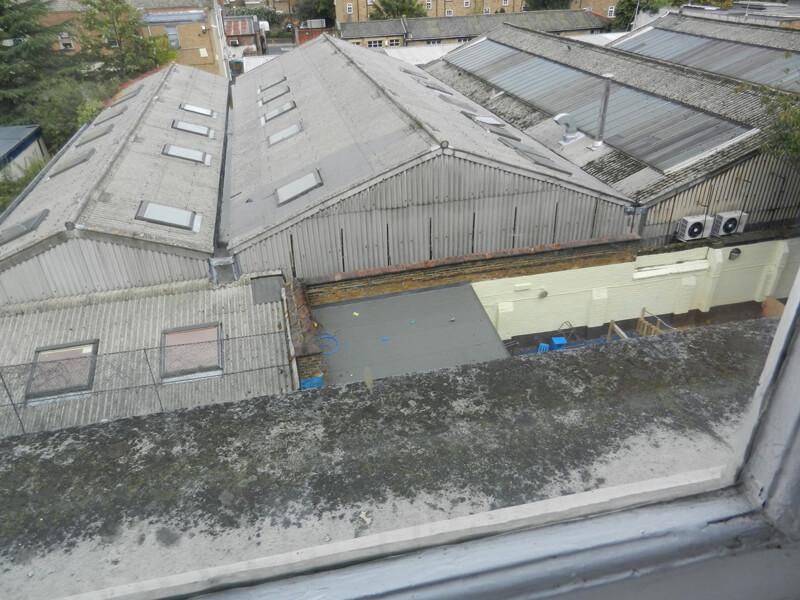 Our services include:
Asbestos Management Surveys and Asbestos Demolition and Refurbishment Surveys
Safe and swift asbestos removals
Garage roof asbestos removals
Fire risk assessments
Asbestos collections
Asbestos encapsulation
Asbestos consultancy and advice
All asbestos waste is disposed of via Licensed Carrier Sites. We will complete all necessary paperwork, including providing waste consignment notes for your records.
If you would like to find out more about the work that we do or request a quotation, please call is now on 020 8288 4460.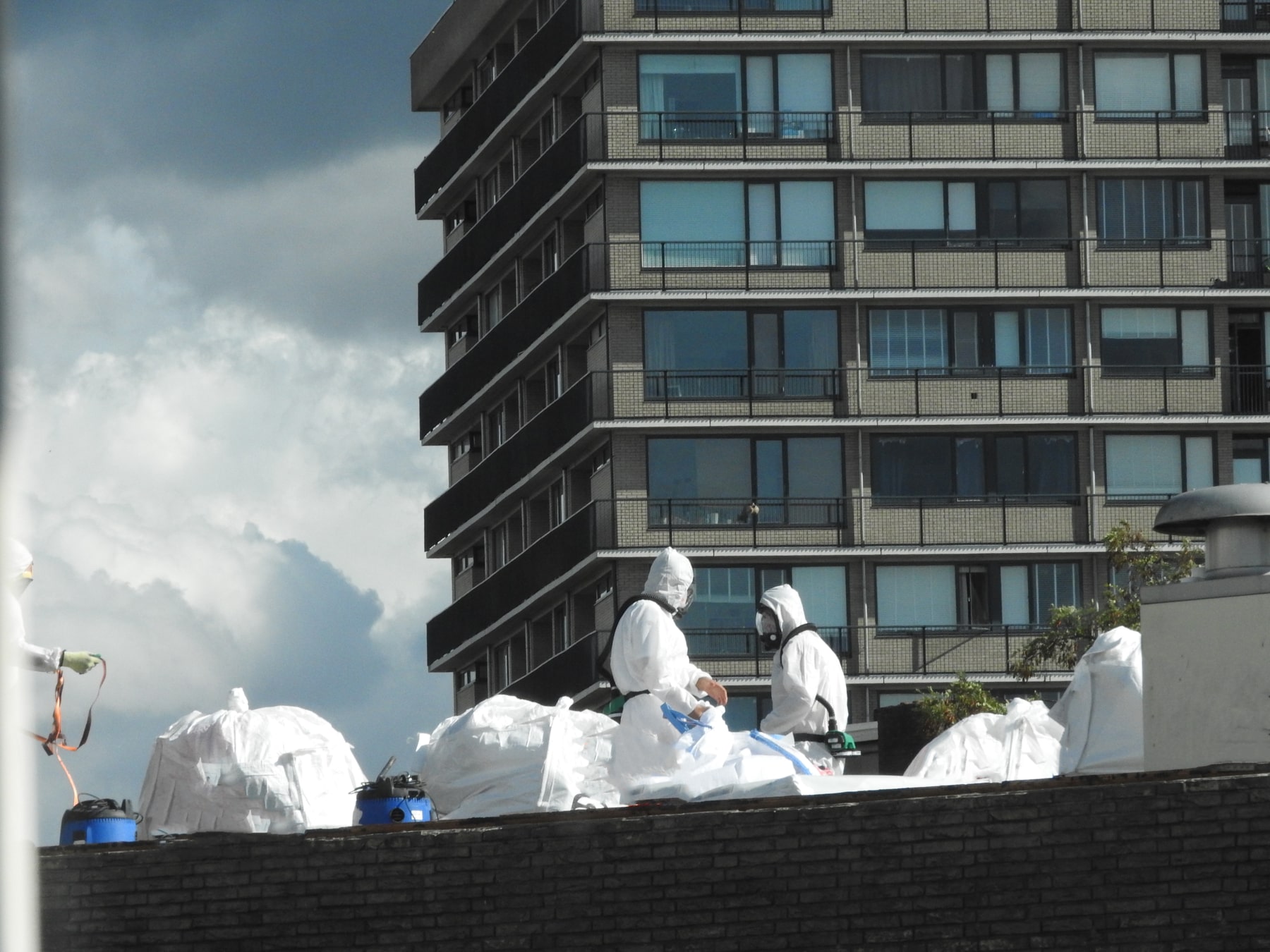 Asbestos garage roof removals near Godalming
Many older buildings built before 2000 contain asbestos, particularly locations like garage roofs, sheds and outbuildings. If you suspect that your garage may contain asbestos, never attempt to remove it yourself. Asbestos is a dangerous material and is thought to be responsible for up to 20 deaths a week from past exposure of workers. When asbestos materials are damaged or disturbed, tiny asbestos fibres (that cannot be seen with the naked eye), are released into the air. If you breathe these in, these can become trapped in your lungs and are thought to contribute to diseases including asbestosis, lung cancer, and mesothelioma.
Asbestos was once used widely throughout the building trade for its excellent versatility. It is chemical resistant, can withstand extreme heat, has high tensile strength, and can be easily manipulated. It was used for fire proofing, insulation, roof materials such as tiles, vinyl floor tiles, wall coverings and panels, and for other uses. Asbestos garage roofs are found in many homes and office buildings in Godalming and Guildford, and we can remove this safely for your complete peace of mind.
Commonly asbestos roof sheets contain white asbestos, known as chrysotile. Even though this is one of the least dangerous types of asbestos, it is still dangerous to touch. Always leave any inspection to the professionals. Our local asbestos consultants can inspect your garage roof and advise on the best course of action. If there are signs that it is worn and deteriorated, it is likely that we will need to remove the roof entirely. As well as garage and shed roofs, we can also remove entire garages and sheds when asbestos is in the wall cement. In some cases, the roofs can be left and monitored.
Asbestos consultants for GU1 asbestos management surveys
Our asbestos consultants can carry out all types of asbestos surveys in Woking and the nearby areas. As well as the standard asbestos survey, which is called an Asbestos Management Survey, we can also carry out Asbestos Refurbishment and Demolition Surveys in Guildford. We help commercial clients and residential property managers get an Asbestos Register in place and this is a legal requirement under the Control of Asbestos Regulations 2012. We can advise you about your legal requirements and ensure compliance.
Asbestos Management Surveys are important if you need to manage asbestos on an on-going basis, whereas Asbestos Refurbishment and Demolition Surveys are surveys that are required if building or demolition work needs to be completed. This survey must always be done before work is started.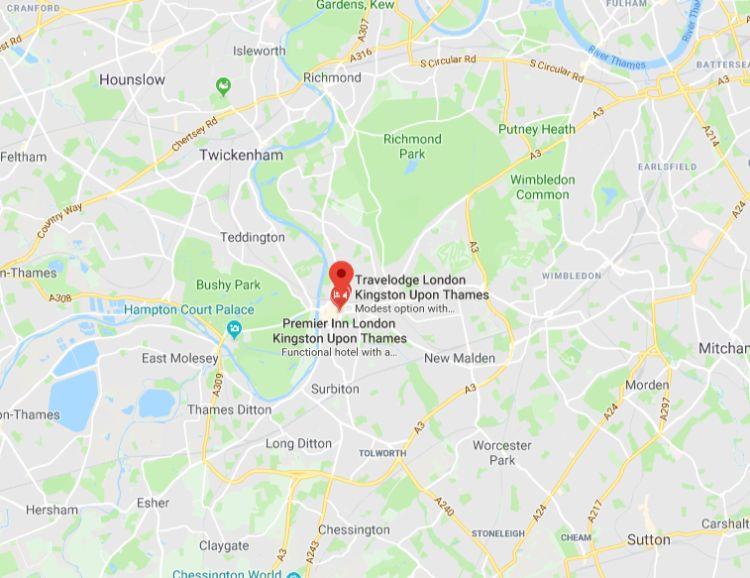 Stoughton
Merrow
Shalford
Chilworth
Clandon
Send
Worplesdon
Request a quote for asbestos removals in Guildford now
If you would like to talk to our professional asbestos consultancy in Guildford, we are always happy to offer advice or a no-obligation quote for any of our asbestos services. We can be reached on 020 8288 4460 or via email at key@keyasbestos.co.uk
Check out our case studies of work carried out in the following local areas:-
Asbestos removals: Where we can remove asbestos from in your home or commercial building
Asbestos can be found in countless locations within residential, commercial, and industrial buildings. Asbestos was once used in countless building materials, and many homeowners and workers can still come into contact with this carcinogenic material.
Asbestos materials that are in good condition and completely intact can be safe, as long as they are monitored for damage. If asbestos is damaged, it is important to call asbestos specialists, to assess the damage, and if necessary, remove the asbestos.
We remove asbestos from all locations including:
Asbestos Garage roofs
Asbestos garage roofs are one of the most common requests for asbestos removal in Guildford. We can also remove asbestos garages, sheds, and outbuildings.
Artex and textured coatings Guildford
Asbestos can often be found in Artex and similar textured coatings. We can find out of asbestos is present and then advise if it needs to be removed.
Asbestos insulating board
This was commonly used as a fireproofing material and can be found in ceiling tiles, partition walls, soffits, window panels and in other spaces.
Lagging on boilers and pipes and loose-fill insulation Guildford
Asbestos insulation can often be found around pipework and in spaces such as cavities in lofts or below floorboards. If damaged, or you are planning to do work, this will need to be encapsulated or removed.
Asbestos cement water tank
Asbestos cement was widely used in water tanks and flues near Guildford. We are experts at removing asbestos from all spaces, including water tanks, with as little disruption to your property as possible.