Premier asbestos company for asbestos removals in Farnham, Surrey
If you are looking for efficient and safe asbestos removals and other asbestos services in Farnham, Wrecclesham, Hale, Crondall, Bentley, and the surrounding parts of Surrey, then look no further. Whether you need asbestos removals, asbestos surveys, asbestos collection, or another asbestos service, our team of asbestos specialists is here to help.
Key Asbestos is always available to offer advice on the most cost-effective and safest ways to manage asbestos. We are a small team of P402 accredited asbestos surveyors, who carry out a wide range of services within domestic properties and commercial buildings and properties. Whether you need an asbestos garage roof removed or asbestos demolition and refurbishment surveys, we can assist. We will always look at the best course of action regarding any asbestos and all our services are highly competitive.
We can take on asbestos projects of all sizes. Licensed asbestos work is carried out by multi-accredited teams, whilst non-licensed works are completed by UKATA-trained asbestos operatives.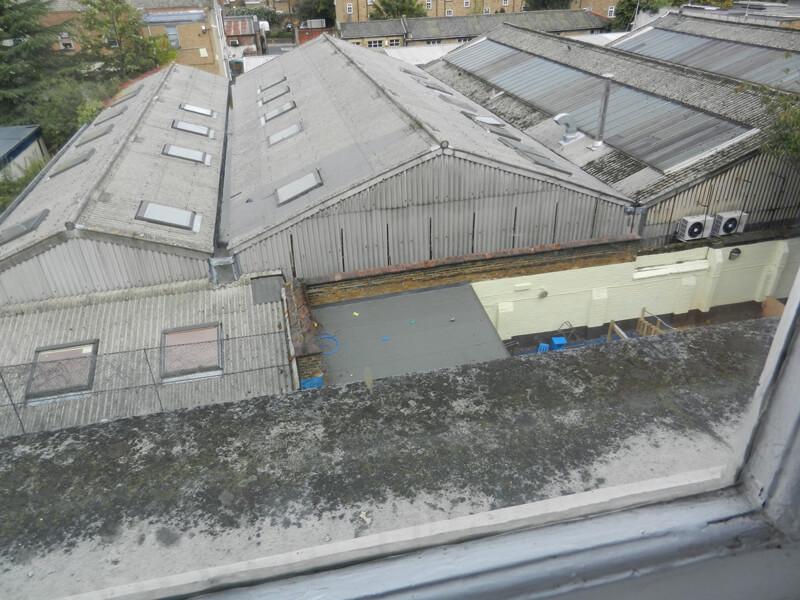 Our comprehensive range of asbestos services includes (though is not limited to):
Quick and hassle-free asbestos sheet collections
Safe and thorough asbestos removals from domestic and commercial sites
Asbestos Management Surveys and Asbestos Refurbishment and Demolition Surveys
Asbestos garage roof removal and asbestos shed, warehouse, and outbuilding removals
Asbestos encapsulation and asbestos management
We have a reputation for providing a thorough service, with exceptional attention to detail, for affordable prices. For more details about any of our services, please get in touch on 020 8288 4460.
Professional asbestos removal and disposal near Wrecclesham
Are you looking for asbestos removals and disposal services near Wrecclesham or Farnham? From removal to disposal, the team at Key Asbestos can take care of your asbestos safely and efficiently. All projects are managed with strict compliance with industry legislation and codes of practice.
Asbestos containing materials (ACMs) were used extensively in the construction and refurbishment of both domestic and commercial properties in countless locations, including floor and ceiling tiles, water tanks, and pipe lagging. We work with residential customers and a wide range of commercial organisations to complete asbestos removals within budget and with minimal disruption. We can provide safe and effective asbestos removals even in the most demanding environments.
GU10 asbestos surveys and testing
Did you know that at least 3500 people in the UK die each year due to mesothelioma, cancer caused by asbestos? Asbestos-related lung cancer can result from past exposure, as well as asbestosis. Asbestos was used extensively as a building material widely from the 1950s until the 1980s. It was finally banned from use in 2000.
Key Asbestos can complete all types of asbestos surveys in Farnham, including Asbestos Management Surveys and Asbestos Refurbishment and Demolition Surveys, and other surveys such as if you are buying or selling a property and want to ascertain if there are any issues with asbestos.
If you are a duty holder of a property, you have a legal obligation to ensure all asbestos is managed, as per the guidelines set out in the Control of Asbestos Regulations 2012. This is met by having regular asbestos surveys that can help form an asbestos register.
We also complete Asbestos Refurbishment and Demolition Surveys, so if you plan to carry out refurbishment work to a property, you will need to complete this survey before any work starts.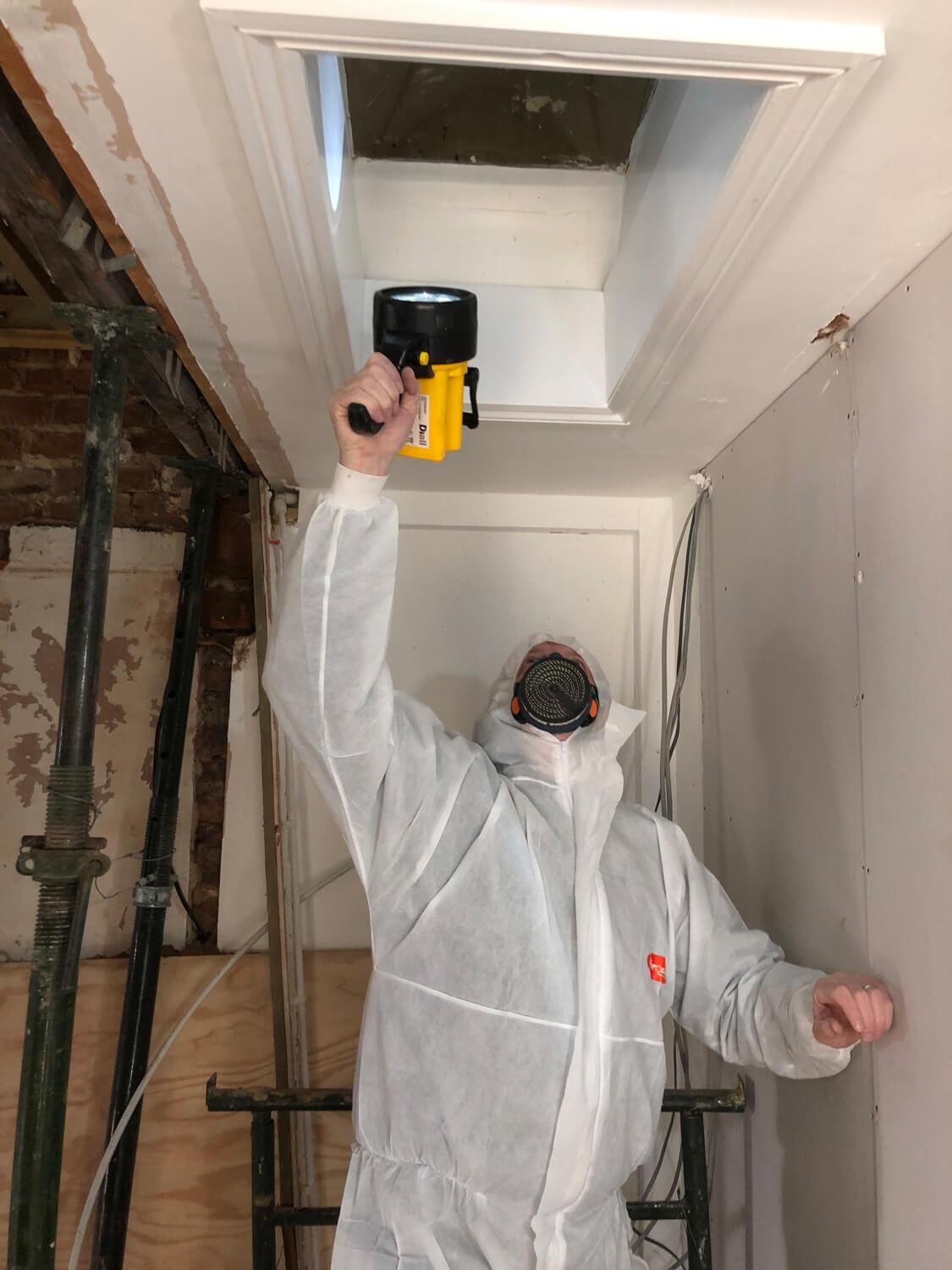 Farnham asbestos collections
Given the hazardous nature of asbestos, once it has been removed it needs to be disposed of safely and ethically via the correct channels. This is essential to ensure the tiny microscopic fibres are not released. We will ensure that any asbestos waste in Farnham is double bagged for additional security, removed, and disposed of via the correct channels.
All projects are completed with paperwork including hazardous waste consignment documentation. We pride ourselves on our prompt service, customer satisfaction, and the quality of our work. We will always deliver accurate and competitive asbestos quotations. We work with:
Homeowners
Property developers
Construction companies
Project management companies
Estate agents
Surveyors
For free asbestos removal quotations in Farnham, call our local asbestos consultants
Get in touch today with the Key Asbestos team to find out more about asbestos removals, encapsulation, or other services in Farnham by calling us now on 020 8288 4460 or email key@keyasbestos.co.uk
Nearby Locations
Upper Hale
Farnham
Hale
Wrecclesham
Crondall
Tongham
Aldershot
Bentley
Seale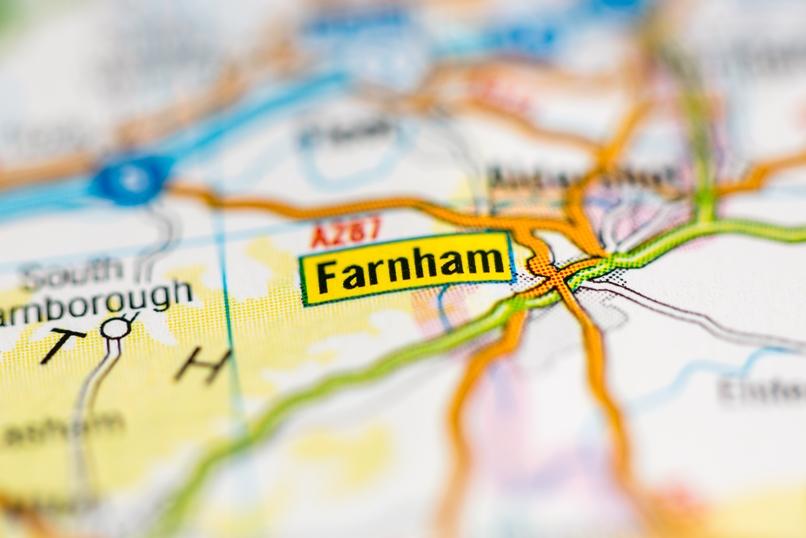 We remove asbestos from all locations including:
Garage roofs
Asbestos garage roofs are one of the most common requests for asbestos removals. We can also remove asbestos garages, sheds, and outbuildings.
Artex and textured coatings
Asbestos can often be found in Artex and similar textured coatings. We can find out of asbestos is present and then advise if it needs to be removed.
Asbestos insulating board
This was commonly used as a fireproofing material and can be found in ceiling tiles, partition walls, soffits, window panels and in other spaces.
Lagging on boilers and pipes and loose fill insulation
Asbestos insulation can often be found around pipework and in spaces such as cavities in lofts or below floorboards. If damaged, or you are planning to do work, this will need to be encapsulated or removed.
Asbestos cement water tank
Asbestos cement was widely used in water tanks and flues. We are experts at removing asbestos from all spaces, including water tanks, with as little disruption to your property as possible.