Effective and safe asbestos removal specialists in Camberley, Surrey
If you need cost-effective and safe asbestos removals, asbestos collections, asbestos surveys, or asbestos abatement in Camberley, Frimley, Blackwater, Sandhurst, Deepcut, Easthampsted, or one of the nearby areas of Surrey, you can call on Key Asbestos. Whatever you asbestos needs – whether it needs to be removed, made safe, or collected – we can complete asbestos projects of all sizes.
Key Asbestos has a wealth of experience in the asbestos industry. We can carry out both licensed and non-licensed asbestos works, and work with both domestic and commercial clients. Our team all hold P402 qualifications and a range of other qualifications.
We follow the most stringent planning to ensure all jobs are completed in strict compliance with health and safety guidelines. We also plan our asbestos work carefully so we cause minimal disturbance and inconvenience. All asbestos waste is disposed of via Licensed Carrier Sites and we can deal with all paperwork, including issuing waste consignment notes.
For more details about our range of asbestos services and how we can help you, please call 020 8288 4460.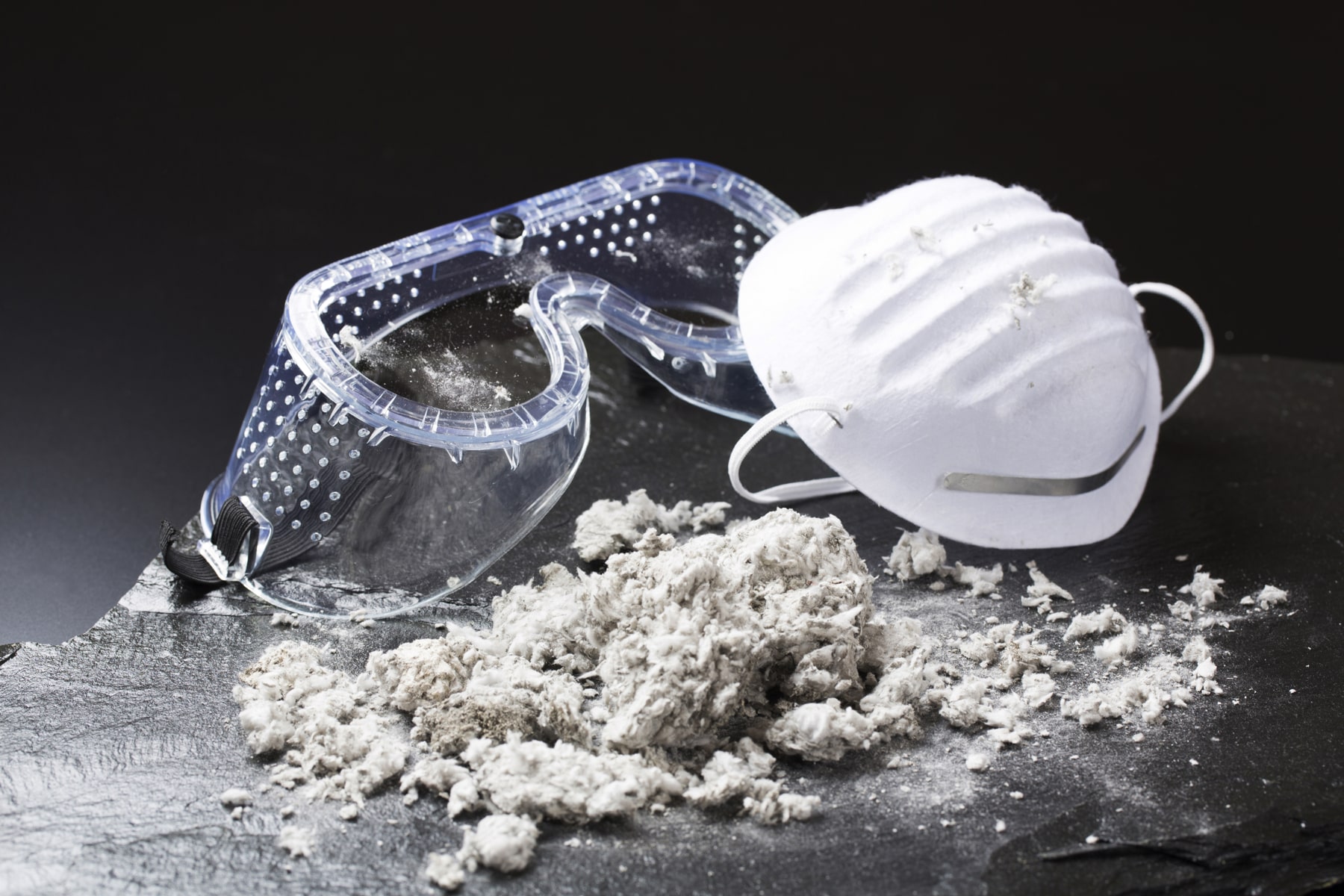 We remove asbestos and asbestos garages near Sandhurst
We work for a wide variety of clients, helping them with their asbestos needs in Sandhurst and Camberley.
Commercial clients: We work for a range of commercial and industrial organisations, including property companies, construction businesses, shops, offices, and industrial companies to provide asbestos removals or asbestos surveys.
Residential clients: We work for private homeowners, as well as estate agents and property managers to solve asbestos issues in domestic properties. We are always happy to provide no-obligation quotes for asbestos removals and services.
We can remove and safely dispose of all types of asbestos containing materials ACMs, including:
Asbestos insulation board (AIB)
Asbestos thermal insulation
Asbestos garages, sheds, and outbuildings
Asbestos garage roofs
Asbestos cement sheets
Asbestos floor tiles
Asbestos textured coatings, like Artex
Asbestos water tanks
Asbestos flues
Do you need a GU15 asbestos survey?
If you suspect that you have asbestos present on your Camberley site it is essential that you call in the asbestos professionals. We offer asbestos testing and sampling, where a sample can be taken and sent to a UKAS-accredited laboratory for analysis. This can determine if there is asbestos present and if so, what type of asbestos it is. There are three main types of asbestos: Chrysotile (white asbestos), crocidolite (blue asbestos); and amosite (brown asbestos).
We also offer asbestos surveys to ensure compliance with the Control of Asbestos Regulations 2012 by identifying the type and extent of any asbestos that might be present. Employers or property managers must undertake reasonable measures to locate or presume the location of ACMs (asbestos containing materials), prepare a record of location and condition of the ACMs, and assess the risk that they pose. A detailed plan – known as an asbestos register – can then be created to be updated regularly.
If you are about to plan construction or demolition works, it is important to get an Asbestos Refurbishment and Demolition Survey completed, which will; give you a fully intrusive view of where asbestos might be present. For FAQs about asbestos garage roof removals and other services, see here.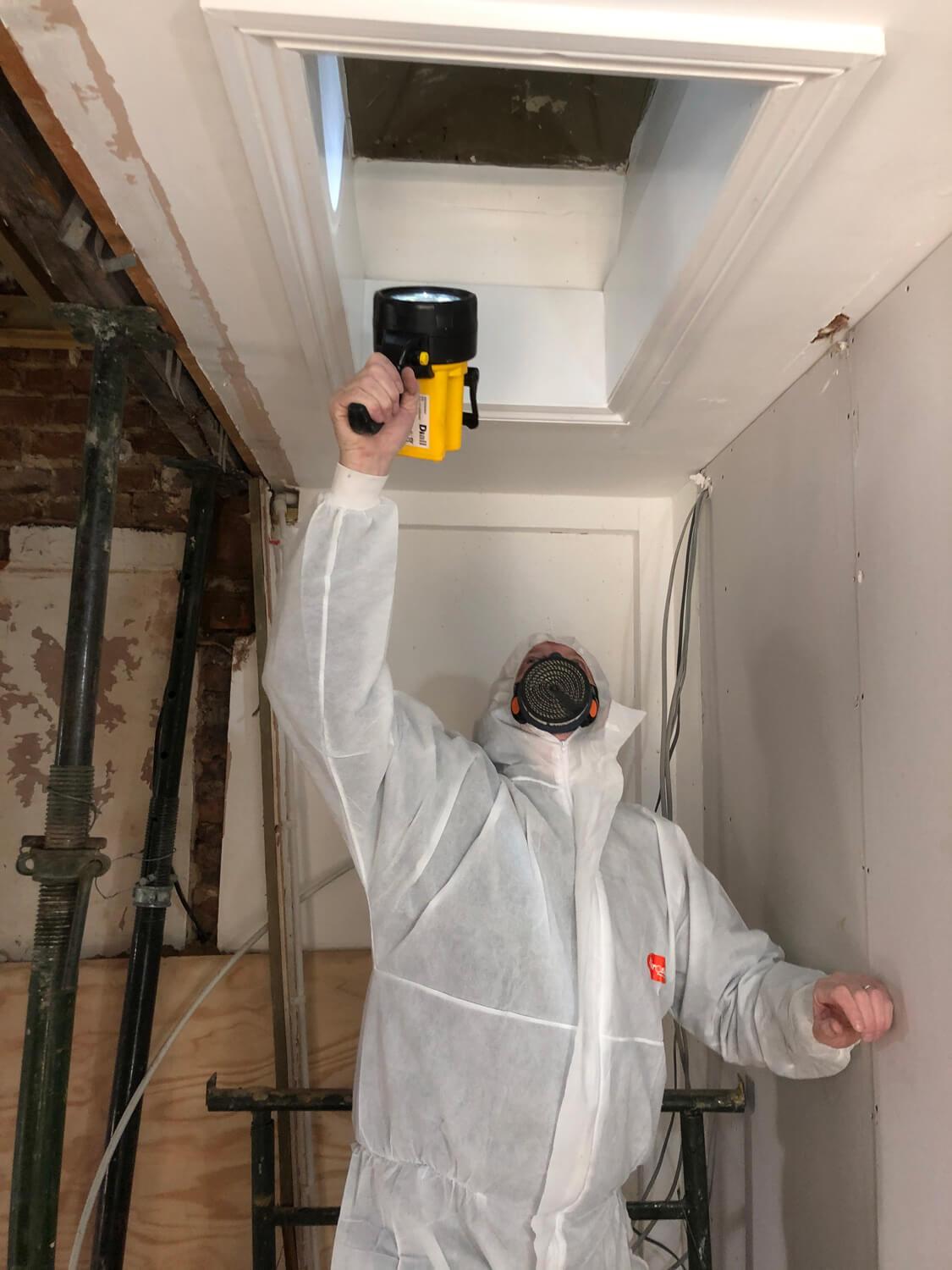 Commercial and domestic asbestos specialists in Camberley
Asbestos is inescapable and can be found in homes, offices, and commercial buildings. It is a naturally-occurring mineral and was once prized for its heat and chemical-resistant properties. Before its dangers were fully known, it was used widely in buildings built between the 1950s and mid-1980s. It was finally banned from use in 2000 but can be found present in any building built before this time.
When materials containing asbestos are disturbed or damaged, asbestos fibres are released into the air. When these fibres are inhaled, they can cause serious diseases, including: Mesothelioma, a cancer which effects the lining of the lungs; lung cancer; asbestosis, a serious scarring condition of the lungs that develops over many years; and pleural thickening, where then the lining of the lungs thicken and swell. These diseases do not affect people immediately because they can take a long time to develop but once diagnosed, it is often too late to do anything about it.
Looking for asbestos removers or asbestos collection in Camberley? Call Key Asbestos now
For further information about how we can assist with asbestos services in Camberley, please call us now 020 8288 4460 or email key@keyasbestos.co.uk and we will aim to get back to you within 24 hours.
Nearby Locations
Blackwater
Sandhurst
Frimley
Deepcut
Easthampstead
Crowthorne
Cove
Hawley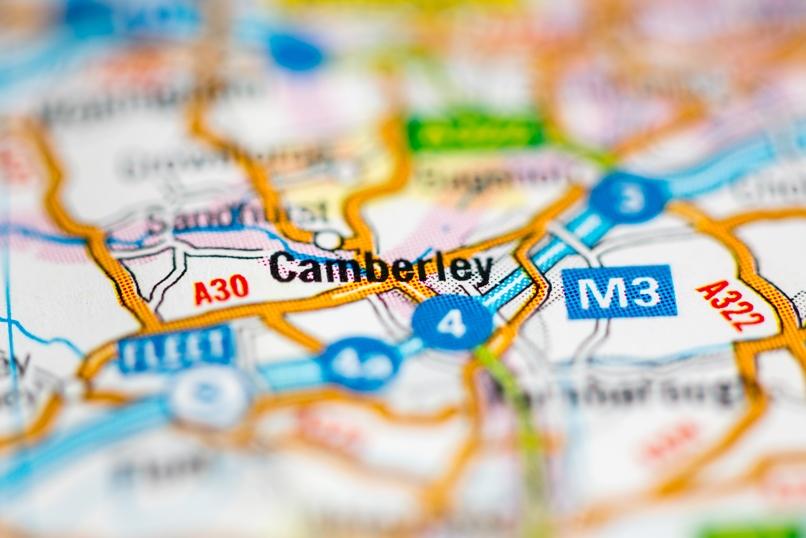 We remove asbestos from all locations including:
Garage roofs
Asbestos garage roofs are one of the most common requests for asbestos removals. We can also remove asbestos garages, sheds, and outbuildings.
Artex and textured coatings
Asbestos can often be found in Artex and similar textured coatings. We can find out of asbestos is present and then advise if it needs to be removed.
Asbestos insulating board
This was commonly used as a fireproofing material and can be found in ceiling tiles, partition walls, soffits, window panels and in other spaces.
Lagging on boilers and pipes and loose fill insulation
Asbestos insulation can often be found around pipework and in spaces such as cavities in lofts or below floorboards. If damaged, or you are planning to do work, this will need to be encapsulated or removed.
Asbestos cement water tank
Asbestos cement was widely used in water tanks and flues. We are experts at removing asbestos from all spaces, including water tanks, with as little disruption to your property as possible.