Licensed and affordable asbestos surveys and asbestos services in Cobham, Surrey
Do you require an Asbestos Management Survey in Cobham, Oxshott, or one of the nearby areas of Surrey? Perhaps you are a residential homeowner who is concerned that your garage roof might contain asbestos? Or maybe you are a local business that wants to know more about your legal duties with regards to asbestos. Here at Key Asbestos, we are a team of asbestos experts working throughout Surrey to deliver complete asbestos solutions for residential and commercial clients. We offer an efficient, professional, and cost-effective service, whatever your asbestos needs.
We have a huge amount of knowledge when it comes to asbestos. The decision on how to treat asbestos depends on a number of factors. We are specialists in this field and can complete asbestos sampling and testing or asbestos surveys to understand more about the location, type, condition, and extent of the asbestos-containing materials (ACMs) so we can advise you.
We offer both licensed and non-licensed asbestos work for both domestic and commercial customers, so we can complete asbestos jobs of all sizes and specifications.
Highly-competitive quotations and pricing structure and all work is always tailored to your requirements and property. We are happy to offer free estimates and advice at any time.
Asbestos experts who offer complete asbestos solutions and a comprehensive range of asbestos services, including asbestos removals, asbestos collections, asbestos sampling and testing, asbestos surveying, and more.
Health and safety are at the forefront of our work and we follow strict policies and guidelines to ensure the safety of our staff and clients. We plan all work carefully and have the latest equipment.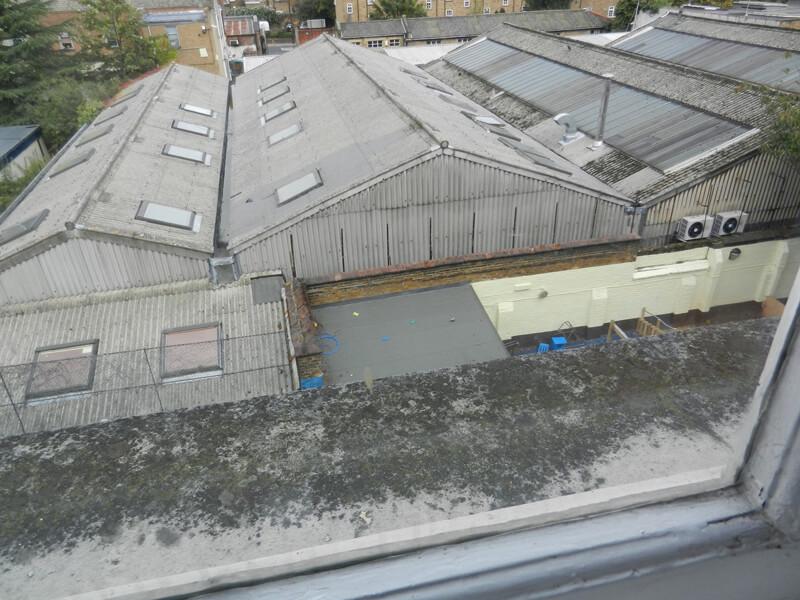 Asbestos services in and around Cobham
Asbestos surveys completed by local surveyors near Oxshott
There is a legal duty to manage asbestos on non-domestic premises near Oxshott or Cobham. This means that duty holders must ensure that regular Asbestos Management Surveys are Re-inspection Surveys are completed to ensure an Asbestos Management Plan is in place. This shows how you intend to monitor or manage any ACMs that are present.
This document also looks at:
Who is responsible for managing asbestos
Letting people who might disturb any ACMS about your decisions regarding ACMs
The schedule for monitoring the ACMs' condition
Plans for work on ICMS, if any
We can also complete Asbestos Demolition and Refurbishment Surveys, which have replaced the old Type 3 asbestos survey. This survey must be done prior to refurbishment works being carried out.
KT10 asbestos sampling and testing
If you come across suspect materials in your home in Cobham but do not want a detailed survey, we also offer a comprehensive asbestos sampling and testing service. We will arrange a site visit and then have samples tested at a UKAS-accredited laboratory and have the results turned around to you quickly.
Why is it so important to understand more about ACMs? Sadly, even though it was banned from use in 1999, asbestos is still thought to be responsible for 5000 deaths every year. Asbestos refers to a group of naturally occurring minerals that were widely used before they were banned, particularly during the 70s and 80s, within construction  ACMs can be found in multiple locations including in cement, flooring, ceiling materials, or pipe lagging.
If asbestos is in good condition, it will pose very little risk to your health but when fibres become dislodged and airborne that can be breathed in. This causes a number of diseases including asbestosis, lung cancer, and mesothelioma.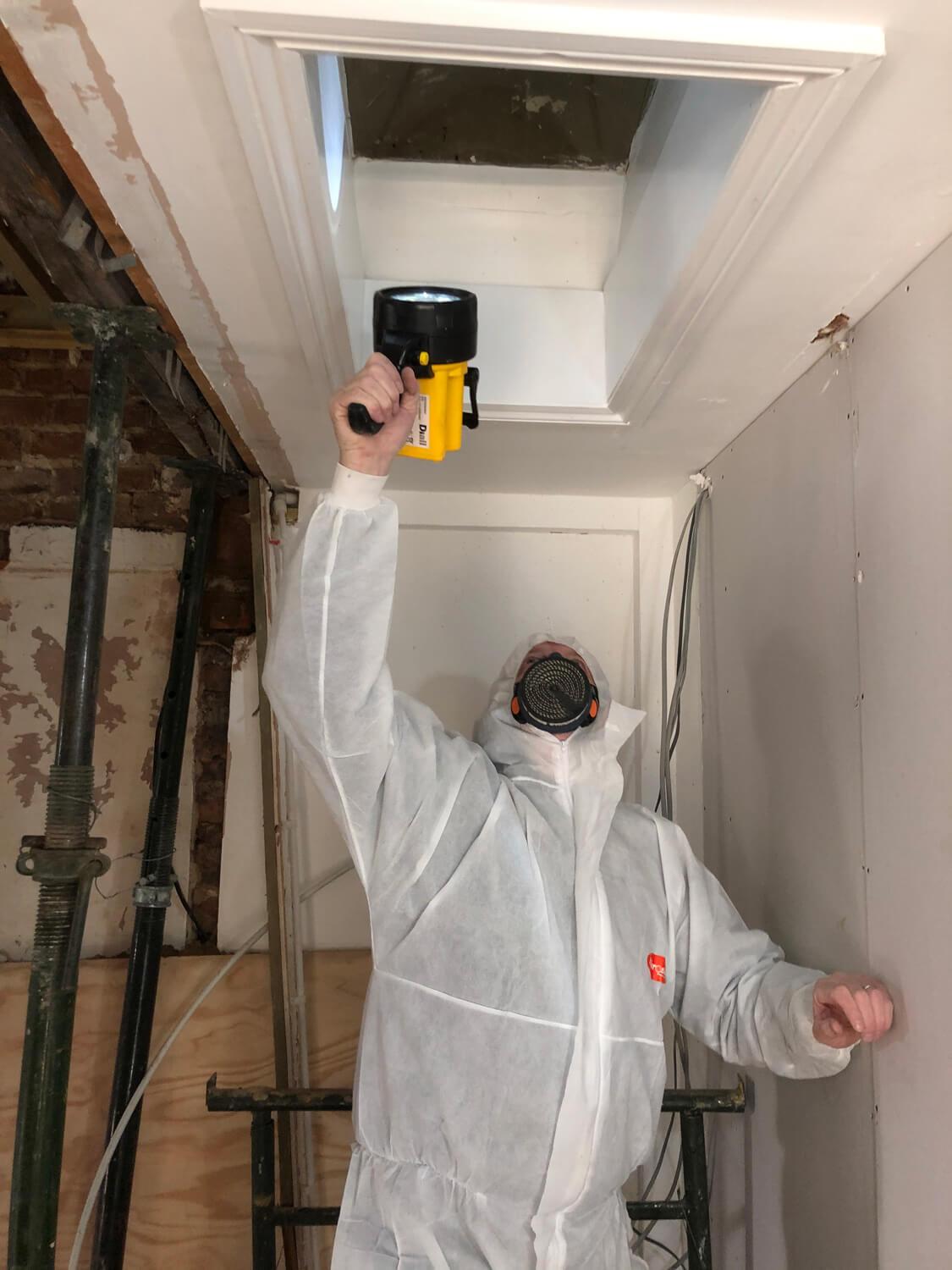 Asbestos garage and garage roof removals in Cobham
We remove asbestos garages, asbestos garage roofs, and other asbestos outbuildings in Cobham. Countless garages built before 1999 will contain asbestos cement, asbestos ceilings, and asbestos roofing. The most common type of asbestos in garages is chrysotile (white asbestos).
Our team works diligently in line with the current regulations. We are licensed waste carriers and all asbestos waste is disposed of efficiently and safely at Government-approved facilities.
Do you need asbestos surveys or services in Cobham? Call our local asbestos company now
For a free asbestos quote in Cobham, call our friendly and helpful team on 020 8288 4460 or email key@keyasbestos.co.uk and we will get straight back to you.
Nearby Locations
Stoke D'Abernon
Fairmile
Wisley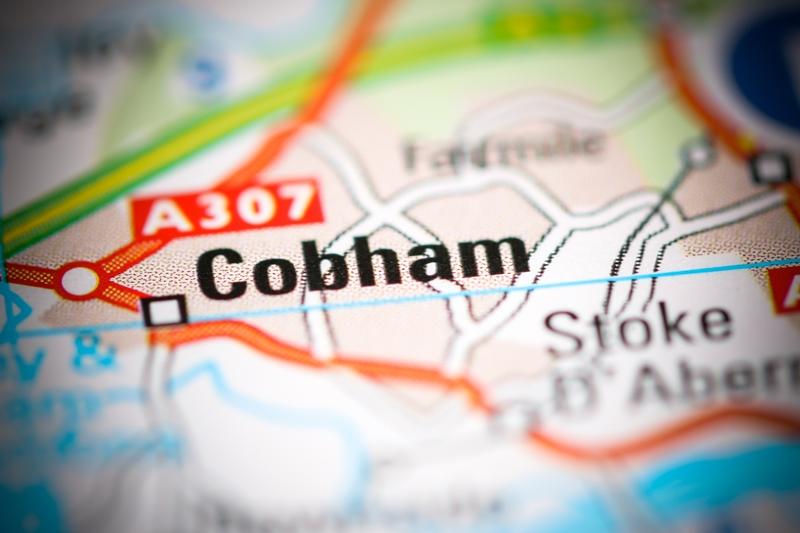 We remove asbestos from locations local to Cobham including:
Asbestos garage roofs removed in Cobham
Asbestos garage roofs are one of the most common requests for asbestos removals. We also remove asbestos from garages, sheds, and outbuildings.
Artex and textured coatings Leigh Corner
Asbestos can often be found in Artex – we can test for the asbestos and quote if it needs to be removed.
Asbestos insulating board KT11
This was commonly used as a fireproofing material and can be found in ceiling tiles, partition walls, soffits, and window panels.
Lagging on boilers and pipes and loose fill insulation Cobham
Asbestos insulation can often be found around pipework, cavities in lofts or below floorboards. If damaged, it needs to be encapsulated or removed.
Asbestos cement water tank Leigh Corner
Asbestos cement was widely used in water tanks and flues. We are experts at removing asbestos from all spaces with as little disruption as possible to your property.
Air heating KT11
Warm air heating systems are an alternative to boilers and are where air is circulated via ducts. If you have asbestos present contact our professional asbestos removers.
Asbestos-lined cupboards removed Cobham
Asbestos was widely used by cabinet makers in cupboards, such as airing cupboards. Asbestos insulating boards (AIB) were used as a fire-proofing material. Generally, it is not easy to identify an asbestos product within the home and asbestos fibres can only be seen under the spotlight, so never attempt to remove insulation board or textured coating yourself.